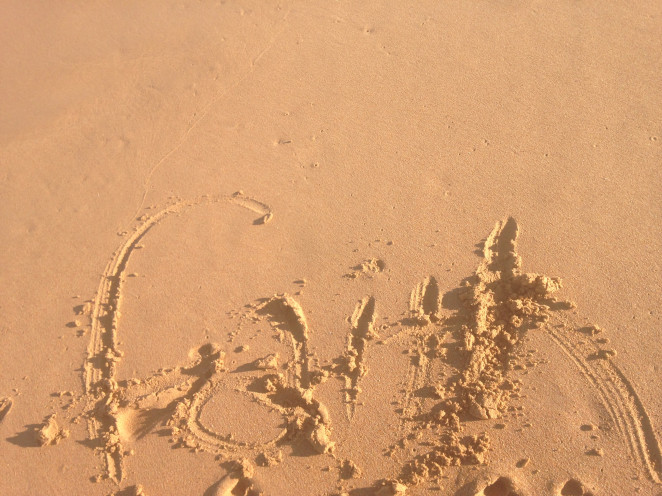 Warning
: Use of undefined constant tr_read_more - assumed 'tr_read_more' (this will throw an Error in a future version of PHP) in
/nfs/c12/h06/mnt/215407/domains/jodiechristinat.com/html/wp-content/themes/purity/templates/blog/right-sidebar-1.php
on line
21
I drew the word 'faith' in the sand with my toes, only to see it, moments later, washed away by a wave. It made me think about the fact that so often we start to feel great faith about a situation or circumstance and often it's not long before a wave of life comes along and washes that faith away, leaving us "blank" and more than a little disillusioned!

I read in Hebrews 14:23 this week the following statement, '…and everything that does not come from faith is sin.'

Wow! It stopped me in my tracks quite quickly! It was like an early morning slap in the face. It's not as though I didn't know it, but I suppose it was a fresh reminder for 2014 that when I go to worry, doubt, fear, disappointment, offense, bitterness, lack of trust etc which let's face it is SO easy to do and often the way we tend to head…I am actually having the opposite of faith and that is sin!

My Pastor, Ps Phi Pringle describes faith as being confident, positive and courageous!

Hebrews 11:1 says that faith is confidence in what we hope for and assurance about what we do not see.

I love these thoughts, that having faith is about choosing to be and remaining positive despite the circumstances, despite not being able to see the end result. Having faith is about being courageous in the midst of what looks overwhelming and possibly impossible. Having faith is about being confident that you have a God who is GOOD, who loves you, who has plans to prosper you and give you a good future, and that because of who He is, you can be confident that He will be faithful in your situation and circumstance.

I by no means think that this means that if we have faith then life will be rosy and wonderful, in fact living a life where we don't require faith is not really living at all. We can seemingly do everything "right" and still be handed a smack in the face from life, bad news, health issues, financial stresses etc. We can love and serve God with all our hearts however because we live in a fallen world full of sin, unfortunately we are not immune from bad things happening. Yet despite this miserable news (insert big grin and thumbs up!), in the middle of every wave, hurricane, storm and more, we can have peace that surpasses understanding, we can face the situation and do what we need to do (for example seeking medical professional help etc) and yet we can remain positive that God is holding us through it all, we can remain confident that our God shall supply all our needs and we can remain courageous believing that NOTHING is impossible for our God! He does not always come through in the timing or the way that we hoped or thought He would, but He is always there and He is always on the move and He is fighting for you at all times!


The story that you come through this situation with will be more powerful than you could ever have imagined, the inspiration that you can provide for others will blow your mind. The glory that God will receive as you hold firmly onto Him will result in the promise of Ephesians 3:20-21, to Him who is able to do immeasurably more than all we ask or imagine, according to his power that is at work within us, to him be glory in the church and in Christ Jesus throughout all generations, for ever and ever! Amen.

I am determined, like "grit my teeth, force myself every day" determined, that this year I will be a person of faith. I choose on purpose, to be positive, to be confident in Christ, and to have courage no matter what I face! Let's together make that commitment, tell someone that you are planning to do this, be accountable for your emotions and actions and remember that when you have a bad day and are slightly less positive than you probably could have been, His mercies are new every day, so get up and try again tomorrow!

Believing for your best year yet, that everything you do and everything you face would come from a position of FAITH: positivity, confidence and courage!